Whew, it is FRIDAY! Here's the follows for the week! I am in the office a bit today then heading to the library to study again, wish me luck on my next CPA test!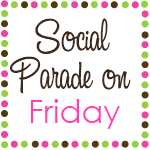 If you are a new follower, let me know in the comment section so I can follow back, and I always follow back :)
You should also head over to
A Modern Girl's Guide
follow her, and enter her giveaway to win a giftcard to nachmamatees! Super low entries!
Happy Friday!